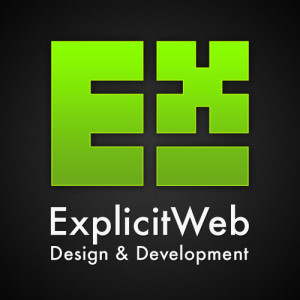 Last week marked the launch of the 7th ExplicitWeb podcast, complete with our second guest, Rick Nunn. The show seems to be gathering strength with each new episode and I thought it about time I shared my thoughts. If you haven't heard the podcast yet, I recommend checking us out either at the ExplicitWeb site or our page on iTunes.
ExplicitWeb came from a series of conversations between John O'Nolan, Rob Hawkes and I regarding the state of web industry podcasts. We felt that the existing podcasts were often overly long and self-indulgent, many focus on one subject per show making them hit-and-miss, and most are done by professional podcasters, or people who have become professional podcasters meaning they no longer practise web design and development on a daily basis. The three of us saw an opportunity to do something new & different and ExplicitWeb was born.
Doing things differently means shaking it up a bit (and invariably making some people unhappy). Here's a few features of ExplicitWeb:
ExplicitWeb is short - the average show time is around 39 minutes. Hopefully this means you won't get bored.
ExplicitWeb is in 3 segments - each host presents a topic, meaning that in those 39-odd minutes you get 3 bite-sized looks at 3 very different subjects.
ExplicitWeb is flexible - we regularly play with the format: one episode was a 30 minute interview and in another we added an extra segment presented by a guest. We're open to ideas and always looking to improve.
ExplicitWeb is diverse - we're from agency, freelance and student backgrounds, developer, designer, and somewhere in the middle and yup we've even got the token girl ;)
ExplicitWeb is informal - we try to present our topics like we're having a chat down your local. We don't try to be holier-than-thou and what we say comes from our real world experience in a hopefully down-to-earth way...
ExplicitWeb is Explicit - ...not because it's smart or funny, but because that's how we talk normally.
ExplicitWeb is how it comes (warts and all) - we don't censor and rarely edit. It keeps it quick & easy to produce and hopefully gives the show that "in the pub" feel!
ExplicitWeb is bi-weekly - despite our time-cutting measures we still only realistically have time to produce a show every 2 weeks. This is definitely the biggest gripe of our listeners! Honestly we'd all LOVE to have the time to do it weekly, but we don't. Hey, at least it's not monthly!
The entire point behind ExplicitWeb is that we are web industry professionals, not professional podcasters. We hope that the benefits of this approach outweigh the negatives. That the content we produce is better for it, even if it means less frequent shows.

Check out the show and if you like it please don't forget to subscribe on iTunes or to the feed if you prefer. Whether you have positive feedback or constructive criticism, let us know and maybe vote for your favourite episode? If you've got ideas for topics, or would like to present one yourself, get in touch.