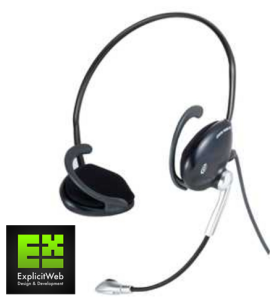 Since the start of ExplicitWeb I have been using this cheap-as-chips headset. It's done me proud, so I thought they deserved a super quick review before I replace them.
Top marks for sound quality
The proof is in the pudding! Take a listen to one of the episodes (4, 6 and 8 are my current personal favourites) and you'll find my voice is crisp and clear.
Could do better with comfort
This headset hurts. A real shame because all it needs is a bit of foam casing around the ear pieces. This is what killed the headset for me, my ears were always sore after recording an episode, or playing CoD:WAW for a while. Perhaps it's just my ears though?
Conclusion
If you're looking for something REALLY cheap and cheerful just to get you started with Skype or something and you either know you get on well with this style of earpiece or you don't mind being a bit uncomfortable then I honestly doubt you'll get better for a fiver... yes they're just £5!!!
The Future
From Series 2, Episode 1 I will be using my all new headset: Creative HS800 Fatal1ty Gaming Headset, with detachable noise-cancelling microphone. I'll write a review once we've done a few episodes with it :)